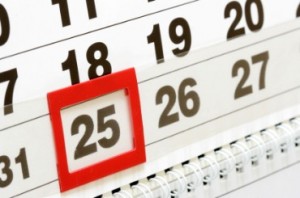 We are all so focused on next week, right? It's hard to see beyond it. Yet if you don't start planning now, you will miss out on two key money making opportunities.
The first is about scheduling your physical inventory. "How does that make money for me? Doing inventory is just a pain in my a__!" you say. The single largest asset that you own is your inventory. Many of you likely have more equity in your inventory than you even do in your home!
I mean that you actually OWN more of your inventory than you own your home. Think about that. It is staggering. You are in business and you have to monitor your assets. It is your responsibility. It is imperative to know exactly HOW MUCH there is and precisely in WHAT CLASSES it is.
Getting that data allows you to identify opportunities in your store. See how much of your inventory in a class was received more than 6 months ago. In some classes, perhaps you sold much of your recently received merchandise but you have a lot that is older than 6 months. This could be an opportunity to grow your business through that class. Your raving fans are telling you that they want more of what you just bought. Maybe there is a class with lots of old inventory. Clearly your fans are saying that they didn't like that stuff! That is a hidden opportunity also– to turn that old inventory into cash.
You also have to plan your after Christmas clearance sale. Did you know that 47% of people say that they will shop between Christmas and New Year's? I want them to shop with you! Give them a chance to. Take that inventory that is older than 6 months and mark it down and move it out. Our Killer Clearance Sale Secrets tells you exactly how to do that – and pays for itself many times over.
Don't make the mistake of only marking down your seasonal items. Mark down all that is old for that sale. Start it right after Christmas. No whining. You are in business to make money! This is the best time because people are out looking for deals. It isn't only about the big stores. Just like on Black Friday, there are people that want to shop in big stores and MANY people who want to shop with you. I taught specific tips about Black Friday to those retailers in my 6 Figure Holiday Blueprint and they saw AN AVERAGE OF 67% INCREASE in sales over last Black Friday by following my advice. That advice started with "Give your people a reason to shop with you on Black Friday and they will!" The same is true for after Christmas sales.
Plan for after Christmas and you can plan on making more money!