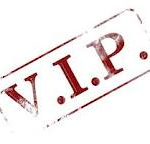 Do you want to get the VIP treatment from your vendors? I have great tips from insiders to get better deals and terms than you would have before! Clients are always asking me how to work best with vendors – and I have seen how some stores get better treatment than others. I wanted to find out the secrets to getting the most you can from your vendors. I had a great conversation with a former senior buyer from Macy's and a fantastic women's apparel sales representative about this issue.
These experts pointed out that maximizing your relationship with your vendor requires a bit of homework before your scheduled buying appointment.  Here are a few things to consider when preparing for your appointment:
Review the vendor's performance (in dollars, not units) by style or item. Consider what sold and what didn't, because what didn't sell may be a negotiating lever to use in discussions with them!

Did you make money with them?

Know how it's paid for (Credit Card, C.O. D, Terms)

Is the initial markup dictated or discretionary?

Maintained markup analysis –is there a reason to continue doing business? All of these questions are to remind you to make them give you a reason to buy from them!

Have you been a steady customer for a few seasons?

What percent of their business is your volume?

Is your business growing with them?

Do you pay on time?
If the answers to these last four questions are YES, then you should get something!
Ok, now you are ready for your appointment. Below you will find the key negotiating points to keep in mind while you are meeting with the vendor or rep and seeing the line. I recommend printing this out so you don't forget a single tip!
Always remember that YOU are the customer and YOU are important to them.

ASK! You won't get anything unless you do. What is the worst that can happen?

Markdowns –if your markdowns are high with a vendor, ask for markdown money. Know that they might ask for a future commitment to a specific purchase amount so be sure that you want to continue buying from them!

Marketing Dollars –every time you promote a brand in anything (print, email, social media), you should be able to get a percent of your purchases with them back in marketing dollars.
Also, be sure to ALWAYS request that they provide links to your website from theirs. Ask what national ads they are doing – if the venue looks appropriate to your brand, ask that they feature your store on those ads.

Markup –if a vendor dictates markup that is below your usual initial mark up, then ask for a discount to make it worth your while to carry merchandise that hurts your bottom line. Be creative and ask for money from them in some other way to cover that difference – marketing dollars or markdown dollars. Sometimes calling it something different changes their answer.

Minimum Orders –if minimums are higher than you are comfortable with for an established resource, explain why you don't want to meet the minimum and don't take no for an answer! If your sales rep can't help you, don't be afraid to go over their head. There is always a reason that the policy does not apply to you.

Off-Price –this refers to getting inventory at a price that is less than the original asking wholesale price. While it is harder to come by these days, there is still a good chance that somebody cancelled something that the vendor needs to resell. It is important to have a good relationship with the line and with your rep to be able to take advantage of these opportunities.

Trunk Shows –the number one rule here is that vendors should always participate in the cost and there are a very few exceptions. I have seen it where one client is told that the policy is not to share any costs and then another client tells me that the vendor is sending them a check!
Be creative with what you ask for. If you promote the event and host it with refreshments, the vendor should at least pay to have the goods shipped in and out for the event. You can also ask for items to be donated for a raffle to be held at the event – or ask for promotional items to be given away. Also remember that trunk shows work for ALL types of inventory – clothing, toys, jewelry, gifts and more!

Shipping –let vendors know you weigh all freight and will accept shipping charges at or below posted rates. Then do it! This can be an entire separate profit center for vendors – and it shouldn't be.

In Store Events–talk to the vendors about ways that they can partner with you to move their goods better and faster! You both want the same thing – increased sales. Game companies offer game nights. Jewelry companies offer "design-your-own" nights. Ask and see what they might have done with other stores.

Late Shipments –ask for something every time – extra dating (30-120 days) or discount (5-20%)

Key Item Promotions –if you are doing a lot of business with one item from a vendor, negotiate a discount on that item to cover markdowns on coordinate orphans from other groups you buy from them. (A coordinate orphan refers to the other items that you purchased from the group that are left over and orphaned by the superstar item.)

Off-Price –this refers to getting inventory at a price that is less than the original asking wholesale price. REMEMBER THAT somebody has just cancelled or bounced back something that the vendor needs to resell. (Bounced back means that it was refused at the door of the store and the order has been bounced back to the vendor.) It is important to have a good relationship with the line and with your rep to be able to take advantage of these opportunities. Make a note on your calendar to call about 2 weeks after you received a shipment from a key vendor to check.
I always got offered merchandise for my store because I asked – and I would hear other owners state that there was NEVER any off-price inventory in the children's business. They were wrong – and so are you if you think that vendors or sales reps never have excess inventory. It happens in EVERY industry. Just ask around – and keep asking.

Reorders –if you are reordering a style, ask for a discount every time. Remember that they are as happy to get rid of it in season as you are to sell it…..and you are taking an extra risk getting it in later so ask for the discount to cover that risk.
© 2011 Cathy Donovan Wagner, RETAIL Mavens