When cash is tight it's easy to fall into the trap of running a storewide sale. After all, what would attract customers more than "Everything is 20% off!", right?

I'm here to tell you…
DON'T DO IT!!!

This plan will backfire on you!
Why You Shouldn't do a Storewide Sale
When you run a storewide (or sitewide) sale, you actually give your control away to your customers.

They get to choose what they want to buy, at the discount you've picked.
And they WILL choose to buy your top sellers, not the older inventory you wanted to move out.You are then left to deal with the aftermath: Sold out best sellers (which you now have to reorder) and ruined profit margins, and no one even looked at the old stale merchandise you really wanted to get rid of.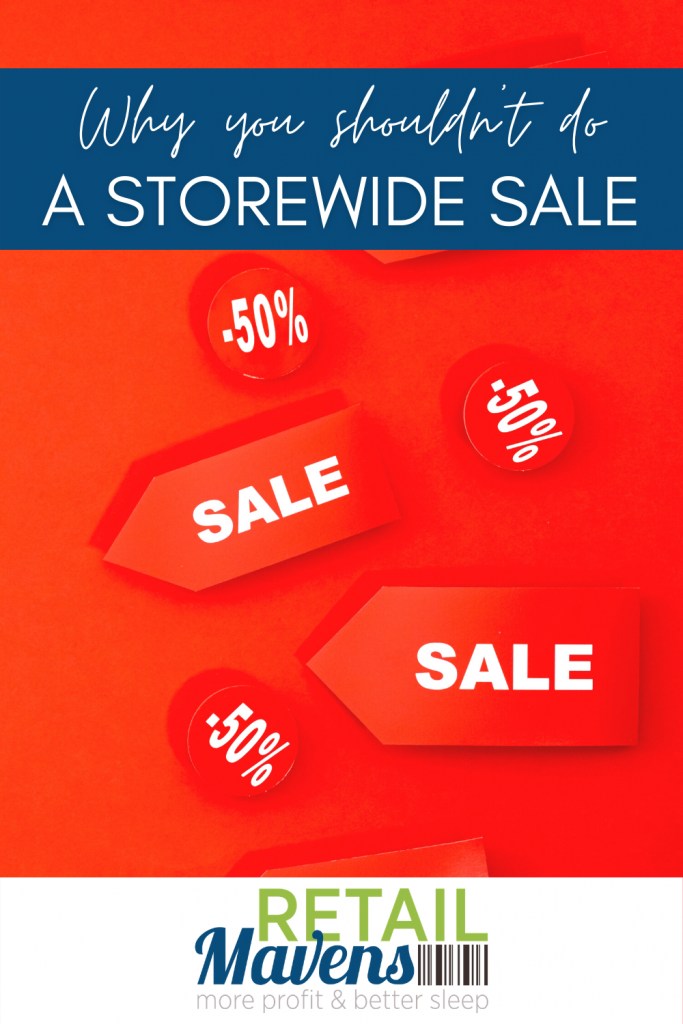 When you have a store or website full of merchandise and a bank account running on empty, it is imperative that YOU take control of your inventory and your cash flow.
How to Protect Your Cash Flow
The answer? You must take specific markdowns on specific inventory using specific timing. There are secrets to running a successful Clearance Sale. And as an independent retailer, whether you sell online or you have a brick & mortar store, or both – you need to know them.
You have to control what your customers buy and at what markdowns they buy it, so that you can meet your goal – More cash and less of the inventory you don't want.
I get that you need cash fast. But there is a right way to accomplish that, and a store wide sale is the wrong way.
You can't afford to run a sale the wrong way, because you will actually end up in a worse place than where you started.
Thankfully, you can learn to run your clearance sale the right way, and it is more important now than ever.
Because you need to make sure you enter the next season in a good place with your inventory and your cash flow.
The Right Way to do a Clearance Sale
Let's start planning how to move out that old inventory, and create more cash!

If…
You have too much inventory and your cash flow is suffering

You are ready to take back control of your store, your inventory and your cash flow

The freedom of more cash in your pocket will bring you relief, peace and better sleep
Our Clearance Sale Secrets Program is exactly what you've been looking for.
It gives you strategic step-by-step instructions to move old, unsold inventory off your shelves, and put more cash in your pocket during your successful clearance sale, so you can stock the fresh, exciting products your customers really want, and it's an important part of the Manage Your Inventory step in our Sales Breakthrough System.
Learn more about this step and the Sales Breakthrough System in this free training.