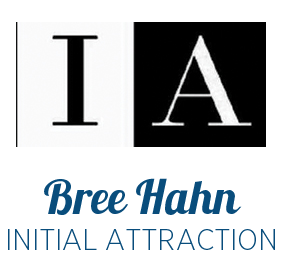 Meme and Bree, while working long, tedious hours for other people, had a fabulous idea. "If we're working so hard, we might as well be working for ourselves!" Sound familiar?
Since they were incredibly talented and intelligent women with a strong work-ethic, they did their best, and everything turned out hunky-dory.
Or not.
"We didn't know what we didn't know," says Bree, and it showed. They found themselves 6 years into their personalized gift store Initial Attraction, underneath "a ton of mistakes" from doing the best they could, and ready to close their doors. "We were not having fun. We were angry, burned out, tired, and trying to decide whether to stay open." Afraid to grow, afraid to hire employees, they were at a huge crossroads. Bree recalls, "We were terrible managers, and thought it was easier to do it ourselves."
Enter RETAILMavens and Cathy Donovan Wagner.
"We were looking for Cathy from DAY 1, we just didn't know it" They had looked everywhere, read books, tried other programs, all to no avail. Meme, a former high school math teacher, laments "I taught CALCULUS, but I couldn't figure out open-to-buy."

Bree adds, "We knew we could learn, but we needed customized, 1 on 1 coaching. Cathy is a great resource, but you have to have an open mind and DO THE WORK." Never afraid of a challenge, just frustrated by a lack of knowledge, they took Cathy's help and grew their business beyond their expectations…and they're STILL growing!
To give them a real plan, tailored specifically to their store, Cathy took them through not only their numbers, but their staffing, their location, and all the intricacies of their business that they had never known how to examine before. She evaluated their space and told them "to move or not grow." They rolled up their sleeves, dug in, and made changes.
With Cathy's guidance, they "built a great team. She helped us not be afraid of hiring or having employees. Without them, we wouldn't be where we are today." The employees even insisted on donating their time to move the store to a better location.
By using the science of retail and Cathy's advice to clean up their processes and systems, they've discovered that success in retail is not about the weather, trends, fads, or the economy. It's really all within their control.
"It was a complete reversal because of her," says Bree, "At this point our goal is to be more proactive than reactive. We're able to plan better, see things coming, trust our numbers, and manage our cash flow."

Meme adds, "We keep refining it, Cathy keeps teaching us more about our numbers, about our margins. The science keeps evolving, and we are always learning."
They both say enthusiastically that not only has Cathy helped Initial Attraction grow, become more profitable, and more reliable, she has made their business more fun. And now, what does Meme think about her OTB? "I look forward to OTB now! It's exciting!"
And what would they tell someone wondering about Cathy and RETAILMavens? "Our doors would not be open without Cathy. We love her, we really hit a goldmine."
Client Case Study – You Will Never Believe What Their Team Did