The images of Las Vegas linger in my mind.
Boy do they know how to do marketing there.
Even in breakfast diners!
Paul and I had spent the evening at the Venetian.  We asked a bartender where to go for breakfast and her immediate response was "The Peppermill."  Then our cabbie on the ride home gave us the same advice.
The next morning found us on our way to this diner.   The colors of the décor were unusual – but interesting to be sure.  You have to love the flamingo stained glass light fixture over each booth!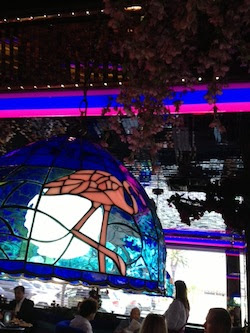 Things were going to a little different at a place like this.  They had customized colored napkins – nice and thick ones.  A very nice touch that set the tone for our meal.  The coffee was poured into bigger than usual mugs.  That won me over – plus then they probably don't have to refill them as often.   But the best item on the table was…. instead of regular old boring sugar – the Peppermill serves colored sugar crystals.  It looks like fairy dust.  I had to use it.  What fun that injected into the experience immediately!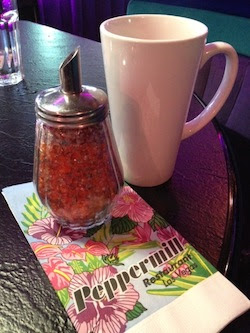 The coffee was pretty decent.  I had the Garden Omelet and Paul went with the Maserati Omelet – great name right?!.  They were amazingly light and fluffy.  While we were enjoying our food, there was a photographer going around to tables offering to take souvenir photos.  What a crazy good idea that generates an additional stream of income for this restaurant.
We got our bill.  Attached to it was a short 5 question survey.  I was impressed how this conveyed to us what standards were important to the ownership and how the team knew that they were being held accountable to them.  However, the Peppermill missed an opportunity to collect email addresses to be able to engage with their raving fans though.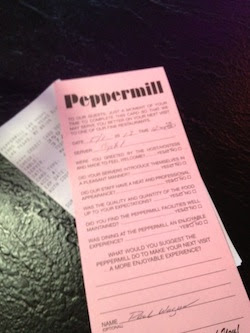 Last, but most certainly not least, when we went to the counter to pay, we were presented with an opportunity to purchase the 'fairy dust' sugar and tee shirts and other memorabilia from our visit.  Genius! They were taking advantage of another possible income stream.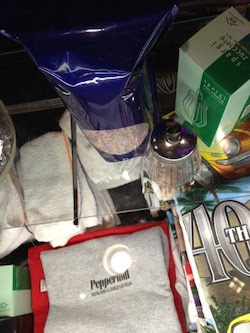 Your RETAILMavens Assignment:
How can you use these ideas for yourself?
'Fairy Dust' Sugar: How can you inject an extra dose of fun and inspired originality into the experience that your raving fans have in your store?
Maserati Omelet: Is there anything that you can name in a memorable way in your store?  Any way to package items together and name it?
Creating Memories with the Photographer: How can you sell a photo of doing something special in your store?  Perhaps around birthdays? What cool frame could you use?  Or what else?
Survey: How do you clearly communicate what is important to your fans?  How do you hold your team accountable?  How can you solicit ideas from your fans and get them more involved?
Tee Shirts and Memorabilia:  How can you create additional income streams in your store while providing more service to your fans?