You can IMPROVE your margins by taking MARKDOWNS.

Crazy! Quite a contradiction, right?
At first glance, it makes a lot of sense to take smaller markdowns, doesn't it? By keeping markdowns smaller, you are protecting your profit margins.
I bet you have stretched it to 50% off, but you didn't go further because then you're not getting back what you paid for it – You'd actually lose money and that's just not smart, right?
Right. And wrong.
Let me explain.
Losing Money to Make Money
Yes, you might lose money by taking your markdowns lower than cost.
BUT sometimes that is the right thing to do, to save your margins overall.
Let's use the story of the Christmas Vase as an example. Even though it wasn't selling, the retailer only marked this beautiful vase down 50% and then back up – because she wanted to preserve her margins.
When she eventually sold the vase at the full price of $40 (THIRTEEN years later) she got her full markup of $20. Great, yes? Actually, no.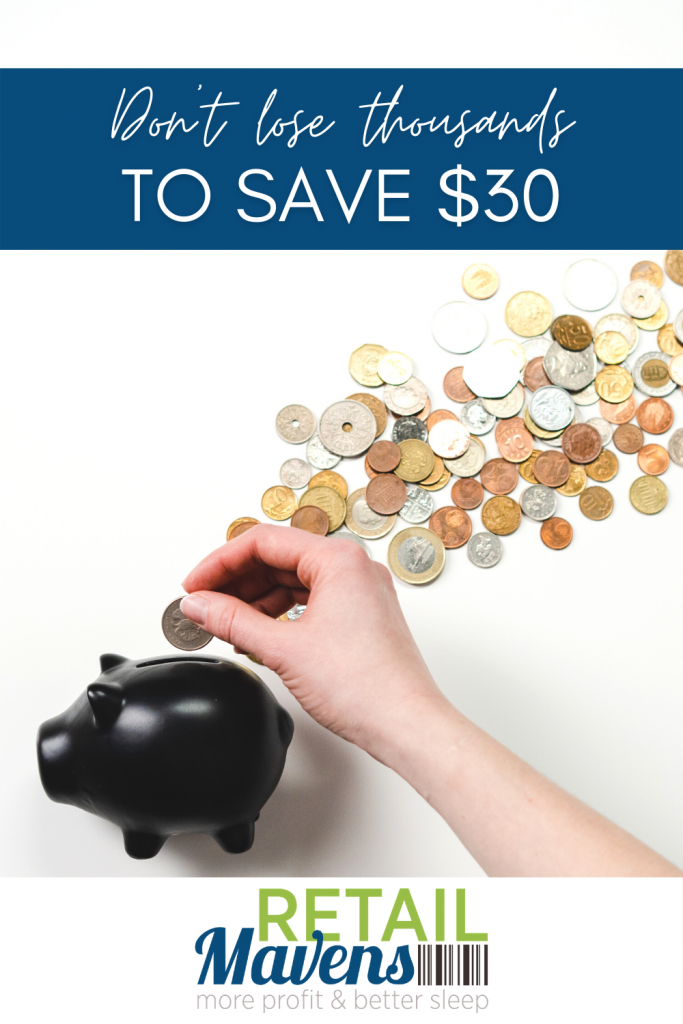 The Retail Compound Effect
Let's say that instead, after marking it down 20% and realizing it still didn't sell, she took the plunge and marked it down 50%. When it still didn't sell, she stayed committed to moving this vase out and marked it down 75%.
Her sale customer (yay for Pinkies!) couldn't pass up that bargain, so it sold right away for $10.
Yes but Cathy, that means she lost $10! RIGHT? Her cost was $20, so if she sold it for $10 – she lost $10!
Yes she did. But now, she could take that $10 and immediately invest it in better selling products, earning a healthy, full profit when they sold.
She could then take that profit, and reinvest it in more best sellers, and so on.
In the thirteen years she was waiting to make that additional $30, she lost out on thousands of dollars in compounded profit!
I don't want that to happen to you.
You can't be afraid to mark down merchandise more than 50%. It's better to take a quick hit to your current profits to preserve your future profits.
But there is a secret to which merchandise you should mark down steeply.
And that's what I teach you in RETAILMavens Clearance Sale Secrets Program .
There has never been a more important time to run a clearance sale the right way.
Because you need your inventory to be just right and your cash flow strong so that you'll move into the next season feeling confident with your inventory.
Our Clearance Sale Secrets Program walks you through the process of planning your sale step by step.
I don't want you to waste time figuring this out the hard way.
This program will tell you exactly how to maximize your sales and profits, while clearing out the inventory that has to move.
And it will turn all that excess inventory into cash during the most successful sale you have ever had.