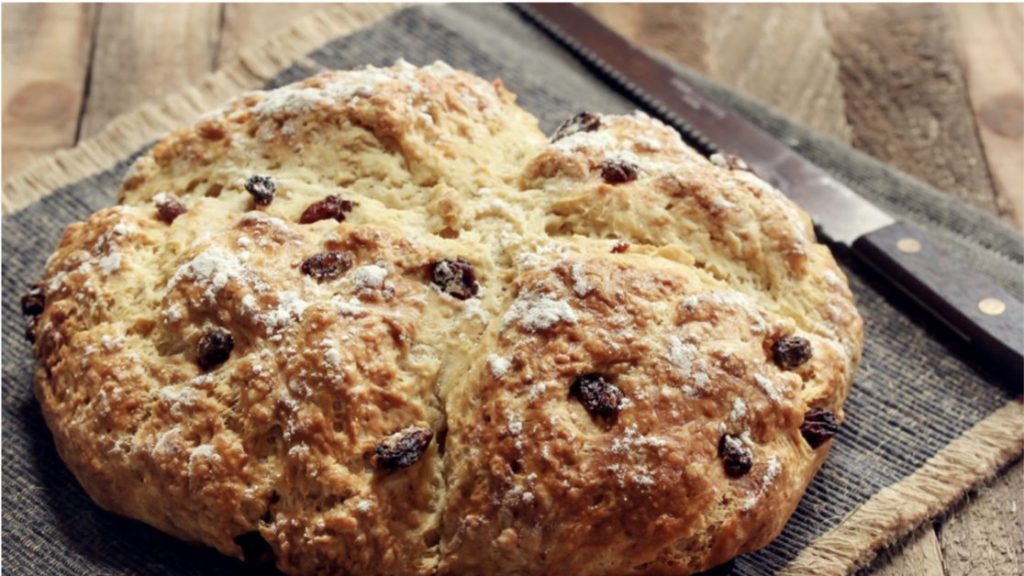 St. Patrick's Day is a big national holiday in our house. All of my grandparents were born in Ireland, as were Paul's mother's parents.

When she was alive, my grandmother always had knitting needles in her hands. In fact she became blind in the last years of her life, and yet she still produced wonderful beautiful Irish sweaters and blankets.

I have wonderful memories of eating her Irish Soda Bread warm from the oven dripping with butter and of course I want to spread that love around by sharing her recipe with you:
*******************************
Grandma Donovan's Soda Bread
2 1/2 C sifted flour
1/2 C sugar
1 1/2 t baking powder
3/4 t salt
1/2 t baking soda
1/2 c butter (room temperature)
1 1/4 C raisins
1 1/2 T caraway seeds
1 1/4 C buttermilk
1 egg (slightly beaten)
Preheat oven to 350 degrees. Boil 1 cup of water and allow raisins to rest in it until plumped and the drain thoroughly. Sift together flour, sugar, baking powder, salt and baking soda. Cut butter into those dry ingredients. Stir in raisins and caraway seeds. Make a well in the center of the dough. Mix buttermilk and egg together and pour into well. Mix careful – don't overdo it. Stir in dried cherries or candied fruit or 1 T of jam if desired. (Grandma would make her own candied fruit for this!)
Grease and dust pan. Use either an 8 in round pan ro 5 X 9 loaf pan.
Cook until done! She never told me how long…you can just tell she said… it becomes golden and pulls away from the edges.