Your day is just starting. Unlocking the door you walk into your dark, quiet store. You're so used to your morning opening routine, that you don't even have to think about what you are doing. You put your things in the back room, turn on the computer, put your float in the cash register, turn on the lights… And there it is.
Staring you in the face.
That one product that you really thought would be a massive hit.
The one you thought your customers would love and adore (because you do).
But there it sits. As much as you hate to admit it, let's face it. It's… a dud.
And now you're reminded of how wrong you were to order THAT many, every single day.
My dear, it is time to let it go. Nobody is right 100% of the time, don't beat yourself up over it! Let's move on and start fresh.
Okay, not so fast. Put the red sale stickers or your best red markdown pen down.
"Wait, what? Didn't you tell me to let it go and move on Cathy?"
I did. But not by discounting it. At least not yet.
There is certainly a time and a place for taking markdowns, and if you know me, you know I'm not afraid of deep, deep discounts either.
But you are ready to be a Richer Retailer, and you have more tools in your tool box than that!
So before you wield that red markdown pen – try these strategies first: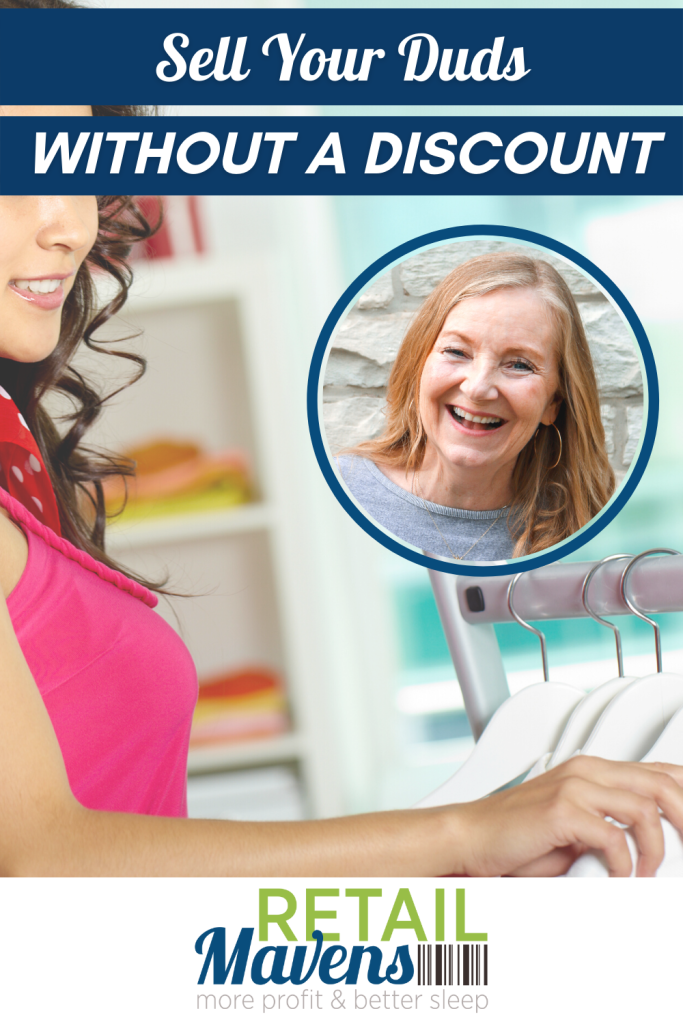 Remerchandise it
Sometimes, it can be as easy as moving your merchandise around, for customers to say "Oh is this new?" about something you've had in stock for months. Why? Because they are not in your store every day like you. They didn't unbox your product, enter it into your POS or display it. They don't see everything, everytime.

So take your dud and make it into a focal point! Use the speed bump table if you have one, or display it around your counter. Add it next to other, better selling merchandise – Just move it around!

Educate Your Team
How well does your team know this product? Can they effortlessly share the features AND the benefits of it? Tell them the top 5 reasons why they should love it! When they are excited about it, your customers will be too.

Bundle it
It might be a dud on its own, but paired with another product, it could be a superstar! What else do you have in stock that you can connect to this product in some way? Create a bundle around a theme, or a recipient, and name it!
Promote it
Go Live on your social media pages JUST about this product (or bundle if you created one). Talk about ALL the benefits and those 5 things to love about it. Then send an email featuring only this product or bundle, presenting it in a way that is absolutely irresistible!
You've got this!
Now back to that retailer tool box. Using a discount to clear out non-sellers is a very important tool indeed. BUT it can't be done on a whim. It should be just as planned and strategic as your buying. There is a science to doing a clearance sale the right way, at the right time. And you can't afford to get it wrong.
The Clearance Sale Secrets program is your quickest and most profitable roadmap to turning products on your shelves into money in your pocket. It's what our clients use every year, and it's what I recommend to all retailers, no matter what type of store you have, or how long you've been in business.
You can get this program on its own here OR you can save and join our RETAILMavens Coaching program where you get access to the Clearance Sale Secrets on top our proven Sales Breakthrough Session and 12 months of live coaching and support. I break down everything included in the RETAILMavens Coaching program in this free training!