Yes you CAN improve your sales with your emails! Email marketing remains the BEST way to market to your customers. Why?
It's easy

It's inexpensive

You can reach a lot of customers at once

It's effective in building relationships & driving sales

You own your list – unlike your followers on social media
Let me add some numbers to emphasize my point:
81%

of Americans

look at their email

at random times of the day (

Statista

)

51%

of email users in the US go through their email to search for

online shopping deals

(

Statista

)

Email

engagement rates average

3.71%

, while

social media channels

average only

0.6%

(Optin Monster)
Have I convinced you that you should have a solid email marketing plan?
Email Marketing for Retailers
The first step in email marketing is to have a consistent strategy for growing your email list. I tell you how to do that [here – hyperlink to "5 Ways to Grow Your Email List"]
Next, you want to make sure you optimize each and every email you send so your time and energy results in more traffic to your store or website – and in turn, more sales.

As an independent retailer, you have the advantage of personal connection.

When you send an email, you have an opportunity to create a relationship and loyalty that the bigger brands simply don't have.

This makes it more likely that your customers will actually open your emails and take action on what's inside.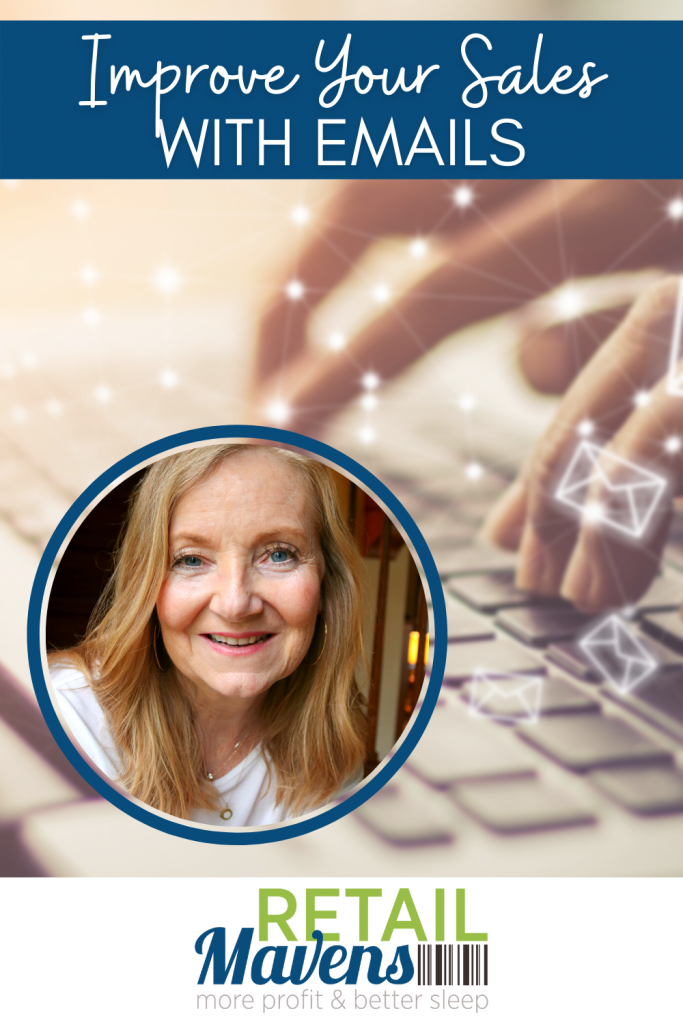 5 Steps to a Successful Retail Email
You don't want to squander this advantage by sending sub-par emails which is why I'm sharing these 5 steps to build the best Retailer to Consumer emails:

STEP #1: An Irresistible Subject Line

With well over 100 emails landing in our inboxes every day (Campaign Monitor), your subject lines have to be compelling to stand out.

The most effective types of subject lines:
Are short – 85% of users open their emails on a mobile device which means subject lines are cut off. Keep them around 20 characters for best results

Use emotional words – positive words edge out negative words, but negative words have a bigger impact than words that are perceived as neutral

Benefit driven – start the subject line with the benefit to give your reader a reason to open

Study your email history and see which subject lines got the biggest open rates. Use more of those formats
STEP #2: A Personal Note
Establish yourself as a real person and stand out from every other internet site out there that sells what you do, by including a personal note in each email. Give them a little peek into YOU and your world and what is important to you.

People buy from people. They buy from people that they know, like and trust. This is how you build a genuine relationship with your raving fans.
STEP #3: Your Expertise
On a regular schedule (monthly at the very least, but weekly is better) your email should include a blog post, video or podcast where you educate your customer on a topic that relates to your store and your products.

My friend and 'newsletter guru' Linda Claire Puig says that "this is where you build your credibility as a trusted expert.

'Giving away' this kind of valuable resource showcases to your customers the depths and types of solutions you offer in your store.
STEP #4: Call to Action
Every email you send needs a Call to Action (CTA). This is where you explicitly tell your reader what you want them to do.

It might be featuring a product that relates to the blog or video you shared, with a "Buy Now" button or link.

Or you might ask them to come in to shop your sale.

Whatever action you want them to take, the important thing is that you tell them to take it.

Keep in mind, if you are advertising an event or a collection not related to your educational resource, it's best to send it as its own separate email.

You don't want to confuse them or ask them to do several things because a confused mind always says no.

STEP #5: Keep Them Short
Our customers' attention spans are shrinking as they're bombarded with information from all angles.

– Your personal note doesn't have to be a letter. It can be one paragraph, or one sentence even!

– Don't post your full length blog inside the email. Use a teaser and link through to the full post

– Your Call to Action should be a single direction of the next step for them to take

You are better to break your emails into a series, than trying to fit EVERYTHING into one.
Send emails more frequently (minimum 1 per week) and you'll find it easier to keep them short. You could break your schedule into something like this:

Week 1: Class schedule (if your store offers online or in-store classes)
Week 2: Featured products
Week 3: Your educational blog, video or podcast
Week 4: Event Announcement

You can mix and match these topics depending on your store, season and event schedule. And you can add in additional emails if needed (when you have lots of new products arriving for example).

The most important thing to see improved results from your email marketing, is to stay consistent, and use these 5 steps every time you plan out your email campaigns.

Now while I absolutely want you to implement this tool to grow your sales – if you haven't solidified a few other areas of your business first – you might actually be hurting your sales.
Because in order to grow your sales consistently AND sustainably (meaning you don't have to work as hard) you need to start with making sure you're keeping MORE of every dollar coming through your store.
And before driving more customers you need to make sure you have the right inventory in the right quantities.
There are specific actions for you to take, in a specific order. I break it all down for you in this free training. Watch it now and start making real change in your business.