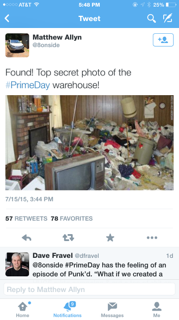 Last week we shared about Amazon's self declared holiday. Every where we read said that it would be bigger than Black Friday. At first we got mad……then we chose to get even! We came up with a 9 point plan for Indies to take on Amazon on Prime Day. The revolution has started!
How did Amazon do? Not so well. After promising a one-day sale that would be better than Black Friday, customers were definitely left disappointed. Unhappy Amazon shoppers were all over the social media venting about its "Prime Day" sales.
Comments about the online retailer included hashtags like – #unhappyPrimeDay, #AmazonFail, and #PrimeDayFail.
Surprisingly, Amazon third-party sellers reported a sales of increase 80% in the U.S. over same day last year, according to ChannelAdvisor.
It was a "decent" sales day, according to Forrester analyst Sucharita Mulpuru, but nothing that approached Cyber Monday or their European rival Alibaba's blockbuster day in November.
Beyond a shadow of a doubt our Indies won.

The comments that we heard were:
"BEST JULY 15TH EVER!!!! Thanks for that BRILLIANT IDEA, Cathy Donovan Wagner!!!!! This. Is. BRILLIANT! Oh, those dogs were barking as they left my store today! LOL! :D"

"Thank you for the brilliant anti-Amazon day idea – so much fun(for our customers and for us)! Definitely felt like Christmas in July. You are brilliant. Now for some wine (and cheers to you!) xoxo. Meme & Bree

"We did $3,140 MORE this year (compared to 2014) on 7/15 and our margins were almost 9% higher even with whacko 50%/60%/75% off deals on REALLY POPULAR items! Wooohoooo!!!" Heather Wolf
Want more results? Not one store reported less than a 176% increase with most saying that margins were better than last year also.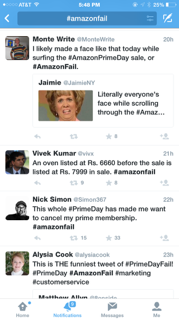 In addition, we heard from 2 stores that got written up in the local papers using a Local vs Amazon angle. It was great publicity for them!
Nothing is more exciting for us than to help you all succeed – and giving you tools to make your dreams come true. I mean that from the bottom of my heart.
It is precisely this kind of creative idea and thinking that we will be sharing at our Retail Profit Revolution. A shameless plug, I know – but I have to be honest with you.
You deserve more success and more profit. You make such a big difference in your community. Go to www.retailprofitrevolution.com and check out what other information I'll be sharing. You will leave richer than you came.
Congratulations to all you Indies who give and give – and who saw much love returned on Amazon Prime day! xo
Indies vs Amazon – Who won on Amazon Prime Day?