I am the first to agree that independent retail comes with its fair share of challenges and obstacles. So is the battle between indie retail vs. big box real? Truthfully? There are many store owner misconceptions – that creates obstacles that otherwise wouldn't be there.

I find that the fourth quarter and holiday season tend to bring these misconceptions, fears, doubts, and self-sabotaging behavior out in full force, but they seem to always be there in the background.

This is why it is so important to have a coach – in every area you want to grow and improve. I don't just say this because I am a coach, I live it! I have a minimum of THREE coaches at any given time (for my business, life/faith and fitness).

I know that this is the only way I'll be able to break through my status quo and break old patterns, because my coach will see what's possible – or how I sabotage myself – when I can't.
The Big Box Misconception
I had the pleasure of demolishing a very common misconception recently. A client was struggling with feeling defeated about competing with the online giants and big box stores for her piece of the holiday shopping pie.
This is such a discouraging belief! If you have ever had this thought, allow me to be YOUR coach for the next few minutes.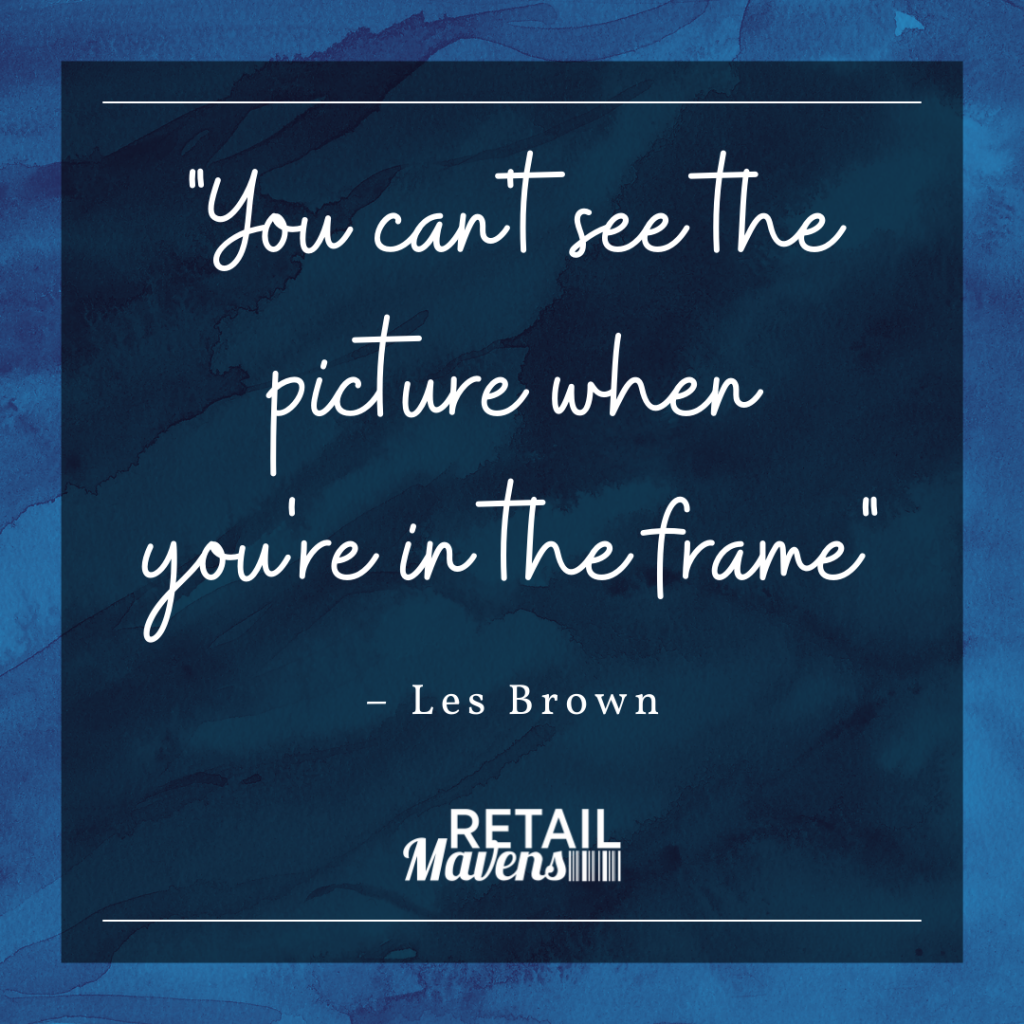 Can Indie Retailers Compete with Big Box Stores?
The short answer is: Absolutely, unequivocally, indisputably YESSSSS! 😃
Not convinced? My client wasn't either – and this is what I said:

Allow me to tell you why this is the case. Allow me to remind you of your incredible amazing strengths – Because you offer so much that those big stores can't!
How to win the indie vs. big box battle
You provide a sense of community = Your customers know their money stays in the community and feel a sense of belonging because they build a relationship with you, your team and other customers who shares their interests

You offer them unique products that aren't cookie cutter = They look like the superstar gift giver because the fabulous gifts they buy from you are different and personal

You take the time to educate and inform them so they make the right choices = They get to fully enjoy their purchase because not only did they get the perfect fit for them and their lifestyle, thanks to you and your team – they know how to best use it for maximum enjoyment
YOU do that for them!

And if you prefer numbers to support a new belief (I get it, I LOVE numbers too) there are PLENTY of customers who prefer to NOT shop with big box stores and online giants. In fact, stats tell us that now more than ever people WANT TO SHOP LOCAL – to the tune of 70% of shoppers!!! (Intuit)

This number is made up of both local in-store shopping and local online shopping (with the majority supporting local in person).
Top Reasons for Shopping Local
Keeping their money in their communities
Staying connected to their communities
Supporting local creators 
Better service
You absolutely CAN claim your share of that holiday and all-year shopping pie – and the first step is to release this misconception once and for all.
Next, as your coach, I'm here to tell you that there are opportunities available to you that you are not currently seeing.

I learned the hard way that consumer behavior changes during the holiday season, and that our planning, marketing, merchandising, spending and team training must change with it. If it doesn't, we're either leaving money on the floor, or completely running out of fuel (been there, done that 🙋‍♀️).

And that's not the Richer Retailer life I want for you.

Inside the RETAILMavens Coaching program, we take our clients through our Holiday Blueprint – A weekly blueprint to everything you need to know to maximize your holiday sales, while enjoying the kind of holiday you've always dreamed of.
This holiday coaching, with me as your guide from November to January – is worth the price of the program all on its own. But because I am so sure of the difference we can make in your business together, RETAILMavens Coaching includes the Sales Breakthrough System which will help you grow your sales so you can pay yourself consistently.

I share how the Sales Breakthrough System works in growing your sales in this free training. Watch it now and join us inside the RETAILMavens Coaching program!