By Nicole Rehyle
Cathy here, I really like Nicole's point in #3.  What do you think?  Let us know on Facebook!!!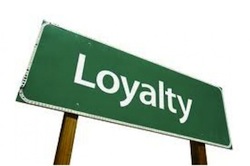 So often, retailers are worried about getting new customers that they forget to care about their existing customers. This type of mentality can lead to a lack of customer retention – and possibly even worse, a bad reputation. The question of "why" this happens is still a mystery, though. If someone has shown you interest in your store, made a purchase or even multiple purchases and possibly even signed up for your email list / loyalty program, then why would a retailer NOT cater more to this crowd?
A study by Deloitte Consulting found that businesses that track their customer loyalty are 60% more profitable than other companies. 60%! What does that number mean to you? Even if you want your business to increase 5% this year (though more never hurts), consider leaning on your existing customers to help you grow  your business. Curious how? Below are a few tips.
Give reasonable rewards to returning customers. Who doesn't love freebies? But if freebies end up in the trash or your customer's home junk drawer (we all know what kind we're talking about) then why not instead offer something worth offering? For every fifth or tenth purchase, offer a store gift card instead. This not only gets them back into your store, it gets them spending more money in your store. The gift card may only be $5 or $20 (this should depend on your average ticket sale) but the idea that a gift card is in their wallet will entice them to return sooner. One thing to note here… notice this is not a "coupon". It's a gift card. Big difference in the customer's mental understanding – and appreciation – of it.
Show extra special TLC to returning customers. Does a face look familiar as they walk into your store? Be sure to let them know you remember them and give them some extra attention! Do you recall what their last purchase was? Ask them how they have enjoyed it! Does a customer stop in just to say hi? Make sure they always know this is welcomed and okay! Customers love special attention… and believe it or not, very few retailers give it. Be the one that stands out to your customers and make sure customers feel welcomed, appreciated and cared for. Try to engage them in conversation about them – not you – and really listen to what they're saying. If you care about them, they'll notice. In return, they will also come to your store more since they will enjoy their time there. What you want to avoid, however, is being "that store" where the customer service is hit or miss based on who is working. Make sure all your associates offer this same kind of TLC.
Surprise Customers With Surprising Deals. The beauty of the world we live in today is that everything is at our fingertips. Texting allow stores to "surprise" customers with one day only deals, special events and more that are not heavily marketed but instead, are announced that day and enjoyed that day. One day only deals, last minute markdowns, in-store events and more can be enjoyable surprises for your customers to learn about. If you haven't already, consider introducing text marketing into your loyal customer strategy as a way to share these special types of promotions. The catch is to both keep them limited yet interesting. Don't bombard your customers with texts every week. Instead, do so one time a month or so and let your customers get excited by the surprise. Also remember to keep your "surprise" exciting enough for them to want to come to your store. And finally, be sure these are just offered to your existing, loyal customers. Text marketing allows this – social media does not.
Finally, choose to be "aware and attentive" to your loyal, returning customers. Take notice. Let them know you take notice. Care. Support them. Ultimately, the sales will stay steady and increase. That's the goal at least, right?
Want to gain even more support for your store? Subscribe to Retail Minded Magazine – the nation's ONLY retail lifestyle publication that supports indie retailers both in and out of their stores!
This guest blog post was written by Nicole Reyhle
Nicole Leinbach Reyhle is the Founder of Retail Minded, Editorial Director of Retail Minded Magazine (of which Cathy is on the board of advisors) and a national speaker & consultant to many retail focused events, groups and businesses. Get in touch with Reyhle at nicole@retailminded.com and follow Reyhle on Twitter at @RetailMinded.
She is also the co-founder of the Indie Retailer Conference!