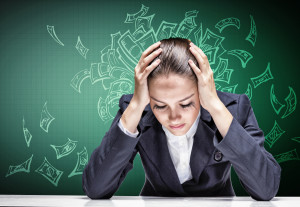 It all started with this email from my client………..
Hey Cathy-

I saw you e-mailed me last week or something, and I never got around to responding. I was knee-deep in my last big promotion and now I'm desperate for an idea to help cash flow.

The launch went ok, not as great as I was hoping, but it brought in some extra money. Seems like that should be enough, and looking at my sales to plan you wouldn't think the month is looking that bad. I am pretty close to sales goal so far. BUT IT IS BAD.

CASH FLOW IS SUCKING.

And I still need to make payroll and pay Sales Tax, and seriously there just isn't enough. You'd think I would begin to learn to get help sooner, but I've been so overwhelmed coming back from my vacation, and focusing so much energy and effort on the promotion that everything else has been suffering.

So mad at myself. Old habits die hard.

Any ideas to try? A Tax day sale?? I don't know but I've had the girls on the phone all week calling customers, but I don't have that much new merchandise and no cash flow to get more.

So frustrating. Let me know any thoughts!
Sasha
Hey Sasha,
Ok – One thing at a time. BREATHE!
1. How about a 1040 sale? Buy 10 items get 40% off.
2. Mindset shift……You don't need new items to call them about! You have tens of thousands of dollars of wonderful merchandise in your store that is looking for a home! You need to see it with new eyes – and remember that they can't possibly have seen it all.
Just reach out to your fabulous fans to talk about 2 things. Only 2 things. Because 90% of the time you will be leaving messages and they won't remember more than 2 items.
First, talk about something that they would love based on what they have purchased or done before – think of those websites that show you "others who liked what you liked bought this….."
Second, talk about Mom's Day/teacher appreciation gifts or a new class that you are offering that they would love!! Pick just one to mention. Then mention that you have missed them and can't wait to see their bright sunshiney faces. Or however you would say it. 🙂
3. Mom's Day is crazy early. Jump on it now! How about putting together a Mom's Class Pass Pack? It really is just a gift certificate for classes plus another fun gift item from the store like lotion or something – but that name sounds more fun. Have a beautiful card to hand out to those in the store to give it to their loved ones that says … "There's a little something I really want from Stitch Space." Make it a nice card for them to give to their loved ones
I did email you – I was thinking and praying for you around the fire date…..big hug
(Please tell me I can share this because you are the third person asking the same thing but you said it best!)
Cathy
Yes, share away.

I like the idea of the 1040 sale….that will work for today & tomorrow I think

Then I'll work on an event next week and/or the next.
Probably need one every week for awhile…haha!
Thanks for the quick reply!
Sasha
Gosh where you have heard that before 😉
……."Probably need one every week for awhile…haha!"
That is what will keep you from being in crisis. Break the cycle. You know our RETAILMavens rule: At least 2 events every month for your store.
AND DON'T WAIT SO LONG FOR HELP! Break that cycle too! It is what we are here for. Your monthly cash flow is in your roadmap. This is THE TIME THAT EVERYONE'S cash flow is tight. The inventory has arrived and you are waiting for the sales to pick up to pay for it. The sooner we address the issue the easier it is to fix. Too often, stores come to us in a world of hurt and it can be too late.
It is essential to be proactive RIGHT NOW.
I am so proud that your first instinct was to call your raving fans! They do love you and just forget to come in. Most retailers won't do that because they are afraid that they are bugging their fans. But you aren't at all. You are providing the best-personalized customer service possible. Who wouldn't love to know that you took the time to identify what their fav things are and are reaching out to tell them that you were thinking about them?! You have learned that!
Yahoo!
Xo
Cathy
PS – One suggestion for sales tax: open a separate bank account and every day transfer the sales tax that you collect into it. Then the money is just sitting there on the 20th!
Real Retailer Q's: My Cash Flow is SUCKING