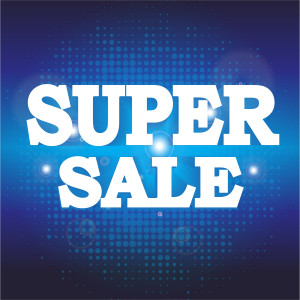 114,400,000 people.
That is the number of viewers for the Super Bowl XLIX on February 1, 2015.
An incredible 71.1% of all TV's on at that time were watching the game.
It is a major cultural event.
Don't miss using it as an opportunity to drive traffic to your store.
Use it as the end of the sale season. Generally, items have been taken to the last markdown by this point, while new and exciting merchandise is arriving every day. That is why I recommend using Super Bowl Sunday as an excuse to have a last push to move that sale inventory out and put more cash in your pocket.
The most effective strategy is to take whatever number the Super Bowl is and use that as an additional discount off the current marked down price of sale items. For example, February 7, 2016 is the 50th Super Bowl. My clients are offering Super Bowl Savings of an additional 50% off all sale items.
How to advertise it? The visual impact of the email is important. Advertise it in emails using 6 – 10 photos of sale items and post the original price, the current marked down price and the price for this special sale. Be sure to include a sentence or two stating what is special about the item and include the brand if it is relevant. At the bottom of the email, encourage people to call in if they can't come in. Also, post these same pictures on Facebook the day before and the day of the event.
You can take it a step further and call it a tailgate party. If your town allows it, do a beer tasting and serve your favorite snacks. Take pictures of the event as it starts and post on Facebook and Instagram so that people see what they are missing!
The most important question is when to do it?
You are the only one that can answer that!
Do you like to watch the Super Bowl? Then do it on Friday and Saturday – but no more that 2 days. Another option is to do it on Saturday and early Sunday – so you can all be home for the game.
But if you could care less about it and don't begin to understand why others do, then I guarantee that you have raving fans that feel the same way. Position your store as THE place to be on Sunday. Offer fun drinks and snacks and encourage your girls to come in with their friend. The more the merrier for sure! Give away something special if 2 or more girls come in together. Do a $200 raffle for a gift certificate to the store and let them enter twice if they come in with a friend.
I don't recommend doing this for new merchandise – it isn't necessary to give any profit away. BUT if you need to raise cash now then the trick is to ONLY do it on new inventory. Do not offer a discount on new AND old merchandise at the same time. That splits your customers focus. It confuses them. "Should I buy this sweater at this great price or spend more on this new dress? I don't know." A confused mind always says no. Make it easy for them to buy!
Whether you want to watch the Super Bowl or not – take advantage of the money making day!
Super Bowl = Super Store Sales