I have a question for you:
When do you think is the best time to add holiday merchandise? Do you think you would come across as greedy or annoying, if you start putting out holiday merchandise in September?
Now before I tell you why it isn't, let me say that I get it. No one wants to see Christmas trees and Santas in the middle of summer (the big box stores do tend to take it too far).

I also know that you have plenty of fall, Halloween and Thanksgiving merchandise to sell still.

But do you know what else I know?
Your raving fans love you. And they want a chance to support you.

This year it's predicted that the holiday shopping season will start earlier than usual, because we're still experiencing some built up demand from supply chain shortages (Adweek, Radial). And it makes sense, right? No one wants to be stuck with gifts they don't love.
The Independent Store Advantage
This is your advantage as an independent retailer. Your customers need you.
They need you to demonstrate, sample and show your holiday products the way big box stores can't.
They need you to give them gift ideas that will earn them the title of "Best Gift Giver"! That will make the people in their lives feel special.
They need you to show them how to style essential accessories. To give them decorating ideas that will turn their homes into holiday havens.
They need you to give them the peace of mind that they don't have to compromise, and they can get those gifts they love from YOU.
And when you give them that, those happy customers WILL spend more of their holiday shopping budget, with you and they'll tell all their friends!
As a retail expert I consume all information about big and small retailers and I know that the big stores will start talking about the holidays in October!
That means the time to start thinking about YOUR holiday strategy is in September.
The holiday season will continue to look differently this year, just like last year. Small, independent stores have to approach it differently.
You are NOT being greedy.
You are NOT being annoying.
You are serving your customers.
How and When to Display Your Holiday Merchandise
So how do you balance your holiday goods with your fall goods? Here are some tips:
Through September, keep adding any new holiday merchandise you receive, but don't display it in your windows, or the prime real estate at the front of your store just yet. For online stores this means don't add them to your homepage hero section (but do add a holiday tab or collection). Save these prime spots for your fall merchandise for now

On social media and in your emails, focus on inspiring and educating – By subtly demonstrating, sampling and inspiring gift ideas, you'll reach the right customers without even mentioning the word "Christmas"

Don't Christmas decorate your store until you do your first holiday kick off event (we walk you through how to run fun and profitable holiday events in our RETAILMavens Coaching program. That's also when you'll start displaying holiday merchandise front and center of your store or website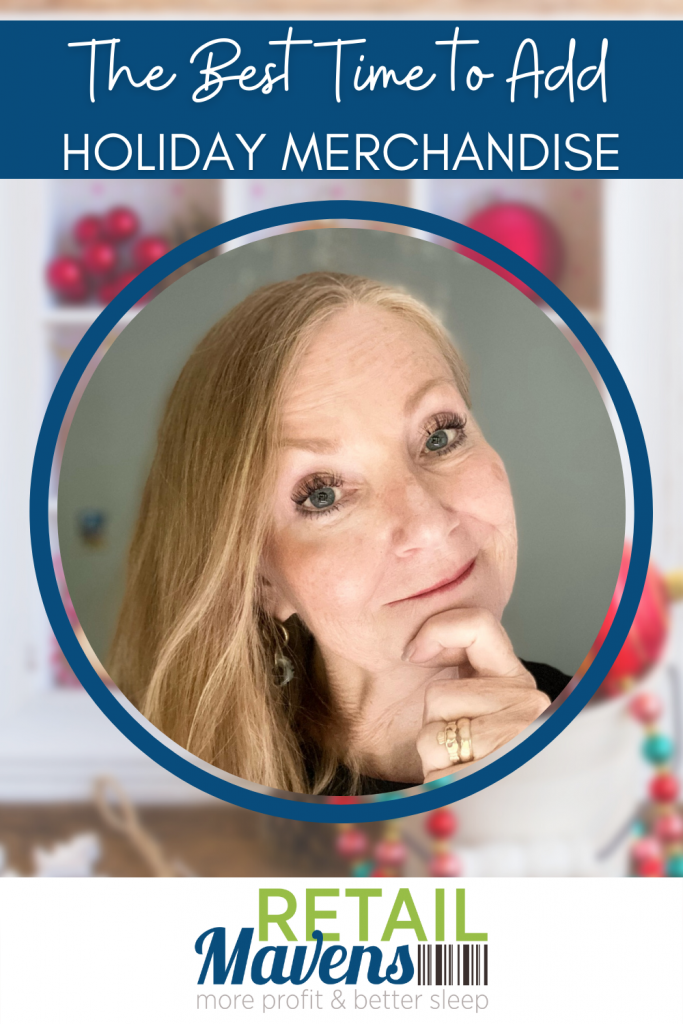 Retail is seasonal and it's important that you take full advantage of each season to promote strong sales year round.
Inventory management is one of the four steps in our Sales Breakthrough System. To have strong enough sales to be able to pay yourself and your staff – you need a solid inventory strategy. I'll explain what that means, and what part the other three steps play in my free training here.