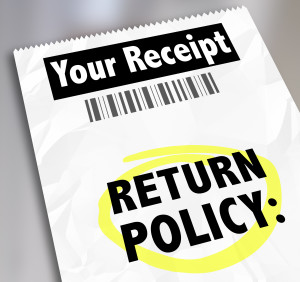 Retail is about creating relationships.
GOOD retail is about creating GOOD relationships.
BAD retail is about creating BAD relationships.
Now before you dismiss this as being obvious, please stop.  Take a breath – in and out.  Think about what kind of relationships the policies of your store creates.  Many policies – if not most – are put in place to protect the retailer or make procedures easier for the retailer.  How do you think they impact the customer?  Do your policies create good relationships or bad relationships?
Today let's talk specifically about return policies.   Now, I know that there are some bad apples out there but one bad apple shouldn't be allowed to spoil the bunch!  One abusive customer shouldn't make it more difficult for all the rest of the yummy ones.  Your return policy should not be determined by the few people who try to take advantage of you.
In my stores, we had a very liberal return policy.   We would take full priced goods back for 21 days for a full refund – after 21 days we would give a store credit.  We would accept sale priced goods back at anytime for a store credit.  Why?  It was a kid's clothing store and we wanted to encourage moms to buy sale items for their kids to wear the next year.  So we chose to remove the fear that they might be stuck with an item because they had incorrectly guessed their child's size  for the next year.  It was a policy developed with the customer in mind – and it absolutely increased sales.
I changed the policy once – to give customers cash back on gloves and mittens at any time with no questions asked.  Why?  One winter, I had gotten a spectacular coat with matching mittens for my 6 year old daughter.  It was a Nordic style coat in the most stunning rose color wool with amazing embroidery and the mittens to match.  Caitlin looked adorable in it, but guess what happened in February?  She lost one of the mittens.  I couldn't find any more mittens in any store!  I live in Chicago.  Winter lasts until May!!  This was a problem.
So the next year, my staff and I told the story to every customer that bought a coat and encouraged them to buy 2 pairs of mittens right then.  I told them that we were instituting a No Lost Mitten Return Policy and would give them cash back if they didn't need the extra pair.  What do you think happened?  We sold dozens and dozens of additional mittens!  And only had to refund 4 pairs!  It was a fabulous win-win situation for us and the customers. We had provided a solution for their problem.  Many thanked us in the middle of winter because their child had lost a mitten and now they had an extra pair for them!  The No Lost Mitten Return policy created good relationships and good retail.
Of course, there are a few customers out there that buy and return and buy and return.  Rather than develop a policy around them you can choose not to sell to them.  Really.  You can.  The first thing to do is to stop marketing to them by removing their address information from your database.  Leave their name in and insert a note about their behavior for your staff.
If that doesn't stop them from coming in, you can fire them.  I have done it.  I once wrote the abusive customer a note saying, "I have noticed that you have had many returns and our merchandise has not worked out for you and I am sorry about that.  I know that it has cost you a great deal of time and effort, so it seems that we are not the right store for you.  I am sure you would rather be shopping elsewhere and we wish you the best."  I never saw nor heard from them again.
As far as I know, there are no legal consequences to this action….but of course please feel free to contact your attorney and ask.  It worked like a charm for me.
Your Assignment:
Take a look at your return policy.  Does it serve you or the customer?  How can it serve both?  I challenge you to think about this further and revisit your return policy.
Post your best "Good Customer Relationship" policy on facebook.com/RETAILMavens – more potential customers will see them!
Email me the ones you're not sure about and let's talk about them
Is there a customer that you should fire?
What's Your Return Policy?